While ensuring to comply with the vision of the President of the Republic who advocates "win-win" agreements, including in the mining sector, an updated agreement was signed this Friday, February 26, in Libreville, between the Gabonese state and the Industrial and Commercial Company of Hua Zhou Mines (CICMHZ) for the continued exploitation of manganese from Bembélé to Ndjolé.
It is a "win-win mining agreement" responding to Ali Bongo's vision for the exploitation of the country's natural resources which was signed this Friday in Libreville. The Gabonese State represented by the Minister of Mines, Vincent de Paul Massassa, and his colleague Minister of the Economy, Nicole Jeanine Lydie Roboty Epse Mbou, updated the operating license of the Industrial and Commercial Mines Company of Hua Zhou (CICMHZ).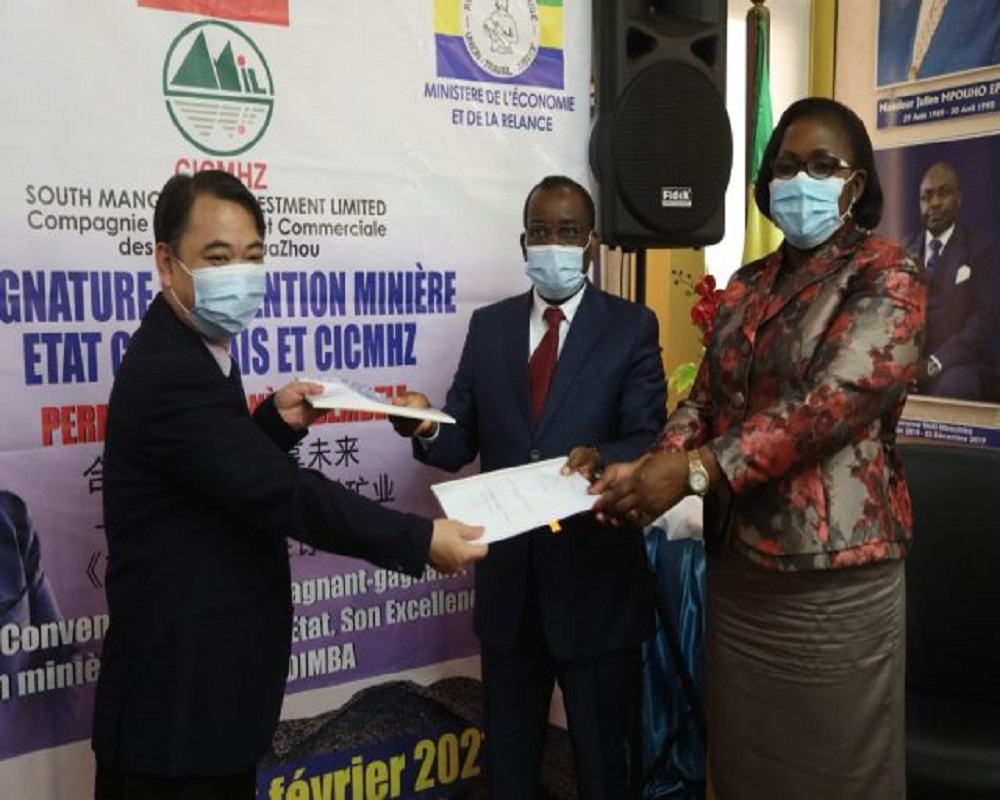 This is, in fact, the first revised manganese mining convention, under the new Mining Code in the Gabonese Republic. Especially since it was on December 5, 2007 that the state granted the Chinese operator mining license No. G3-223 for a period of 10 years before renewing it in 2017.
Four years after this renewal, the Chinese company has not shied away from the revision of its contract. Quite the contrary. For his boss, Fan Xiang, the ceremony of the day was moreover "a great event and a great moment for CICMHZ", especially as "it also has an important meaning for the sustainable development of society and for the "A belt and a road" initiative ".
"The participation in the capital of the State and the new tax model, which includes the sharing of production, make it possible to strengthen a win-win relationship between the State and the company", declared the director general of the CICMHZ, while promising to strive to increase the quality of the product and the turnover of his company to benefit Gabon more, in particular by creating more jobs and opportunities in order to promote the revival of the local economy and regional.
"We are committed to carrying out all mining activities in accordance with the provisions of our mining convention and the Mining Code, respecting the spirit of the convention, assuming our responsibilities and the obligations provided for therein. We are taking all necessary measures to meet our obligations and commitments in terms of health, hygiene and environmental safety, "he further promised.
For his part, Vincent de Paul Massassa did not fail to welcome the adherence of Chinese society to the reform of the Gabonese mining code of 2019, which aims, among other things, to increase the mining revenues of the State and to make sector a real pillar of socio-economic development. He also recalled the "remarkable solidarity" of the CICMHZ in the context of the response against the Covid-19 pandemic alongside the government. A commitment that undoubtedly influenced the outcome of the day.