It is extremely difficult to talk about the successes of the Commercial Bank Cameroon CBC without a houshold name. Clement Kemayou is a true reflection of a fine banking and finance professional whose dedication and commitment to success has no boundaries. Everywhere he passed, the now Regional Director of CBC for the Littoral and South West regions has over the years left indelible marks of proffesionalism and humility, setting himself as one of the country's finest bankers.
After his academic training, the native of Kékem in the West region began his incredible professional career in 1982 at NKONGSAMBA as a simple agent, then his meteoric rise in rank due to his handling with ease of accounting, banking operations as well as IT tools have enabled him to automate loan management, which until then was only the preserve of the Headquarters in Douala.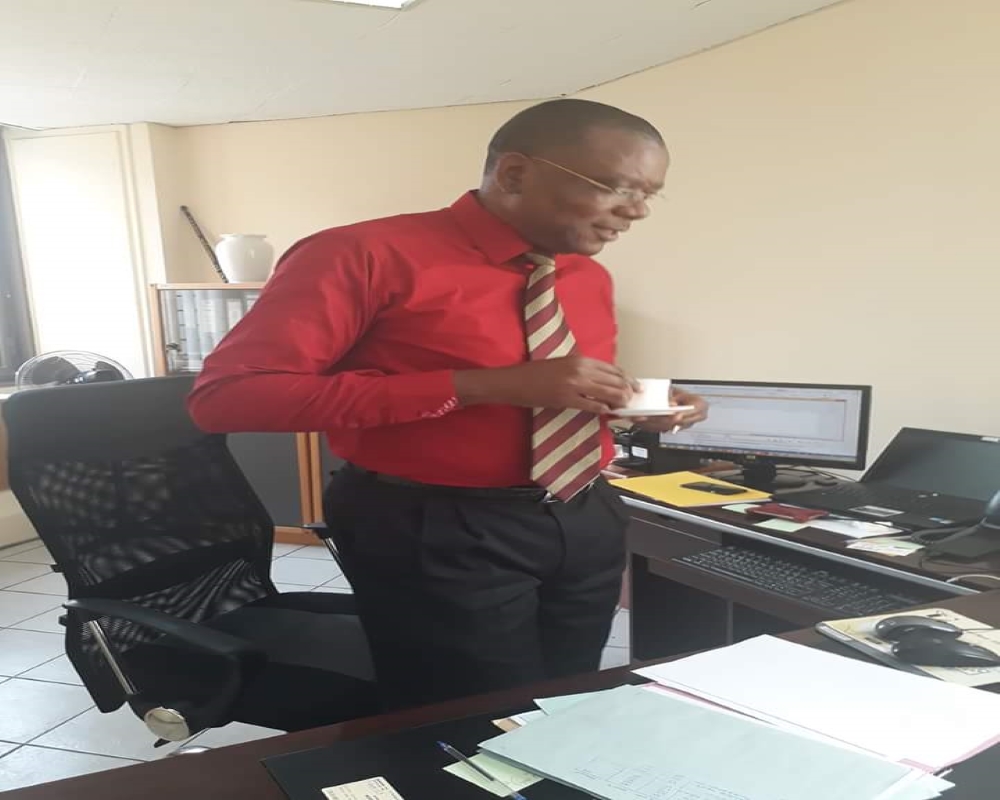 He was quickly reminded to General Management in 1987 for sharing his experience and especially to use his computer knowledge that he knew how to combine them with banking operations for more efficiency in rear base control operations. After the creation at the Central Organic Direction of a flying service of accounting assistance at the counters, a service that he coordinated for two years with regular training for accountants and their agency correspondents.
It was screened in 1992 at the Audit and Management Control Department, where he was later appointed Controller, Junior Auditor and then Chief Inspector. After three years of stay, he was appointed Inspector Head of Mission, a position he held until leaving this Department to be transferred to the operation where he was entrusted with the destiny of the Douala Bali agency, the third of the Societe Generale network in terms of importance after the Headquarters and the Yaoundé Agency. The feat of arms outside of exploitation was to reduce reporting from 60 to 20 days, not without having disrupted habits and processes as is customary in such circumstances.
It should be noted that in the Department of Internal Audit and Management Control, Mr. Kemayou Clement has not only carried out several missions as well of efficiency, compliance as advice. He also made a major contribution to the design and implementation of Permanent Monitoring, Societe Generale's first level control system, with, in turn, dedicated software for managing the whole personally designed and developed under VBA, a contribution highly appreciated by the BHFM branch, the Metropolitan Department responsible for Africa in the Société Générale Group in Paris.
Clément Kemayou was also a member of the team responsible for overseeing the migration of the bank's IT system, which went through "BIG BANG" from IBM RISC6000 to the DELTA BANK software package, an operation carried out successfully after several months intense work. He was also a member of the "Info 2000" team at the General Management, a dedicated team to lead thinking and develop action plans for the preparation for the transition to the year 2000.
The longest professional stay of this executive will start in 2000 when he left Société Générale to join the Commercial Bank group where, with his experience, he was transferred to Chad to ensure the destiny of the Internal Audit Department.
He spent 11 years there where he designed and implemented information management software not only for the commissary, Human Resources but also for the management of an audit service (automatically, generation of mission reports, generation of Revelation Sheets for Problem Analysis (FRAP) monitoring of recommendations, annual programming of missions, supervision sheets for junior auditors during their missions in the field, etc.), in particular, and of the internal control system in general. For 11 years as Director of Internal Audit, the banker and financial expert still committed and diligent, among other things, had the Board of Directors adopt a charter not only of Audit but also of Governance within the bank.
At the end of these years in Chad, he will return in 2011 to his native Cameroon where, after a brief stop at the CBC Human Resource Department he will computerize the management of personnel files. At the end of which he will be transferred as Deputy Director in charge of SME / SMI of Institutional and Micro Finance Institutions, position that he will hold for a year before being appointed Regional Director of the Littoral and Southwest Region, position that he brilliantly assures to this day.
Mr. Kemayou has been and remains a major player in the success of CBC, despite a difficult passage through the provisional administration.
The bank achieved a net profit for the year 2019 of 2.5 billion FCFA, undertaking a commitment to increase its current capital from 12 billion to 16.5 billion FCFA, a testament to the success of the bank with the State of Cameroon.