The document was initialed on April 15, 2021 in Yaoundé, by the managing director of CAMTEL, Judith Yah Sunday épse Achidi and his counterpart from MTN Cameroon, Stephen Blewett. MTN Cameroon announces the signing, with the operator Cameroon Telecommunications (Camtel), of a memorandum of understanding on the resale of Internet Capacities, also called "Wholesale".
The agreement was initialled on April 15, 2021, in Yaoundé, by the Managing Director of Camtel, Ms Judith Yah Sunday épse Achidi, and her counterpart from MTN Cameroon, Mr Stephen Blewett. It was during a ceremony chaired by the Minister of Posts and Telecommunications, Minette Libom Li Liking, in strict compliance with anti-Covid19 barrier measures. Representatives of several administrations and personalities, including the Director of the Telecommunications Regulatory Agency (ART), also took part.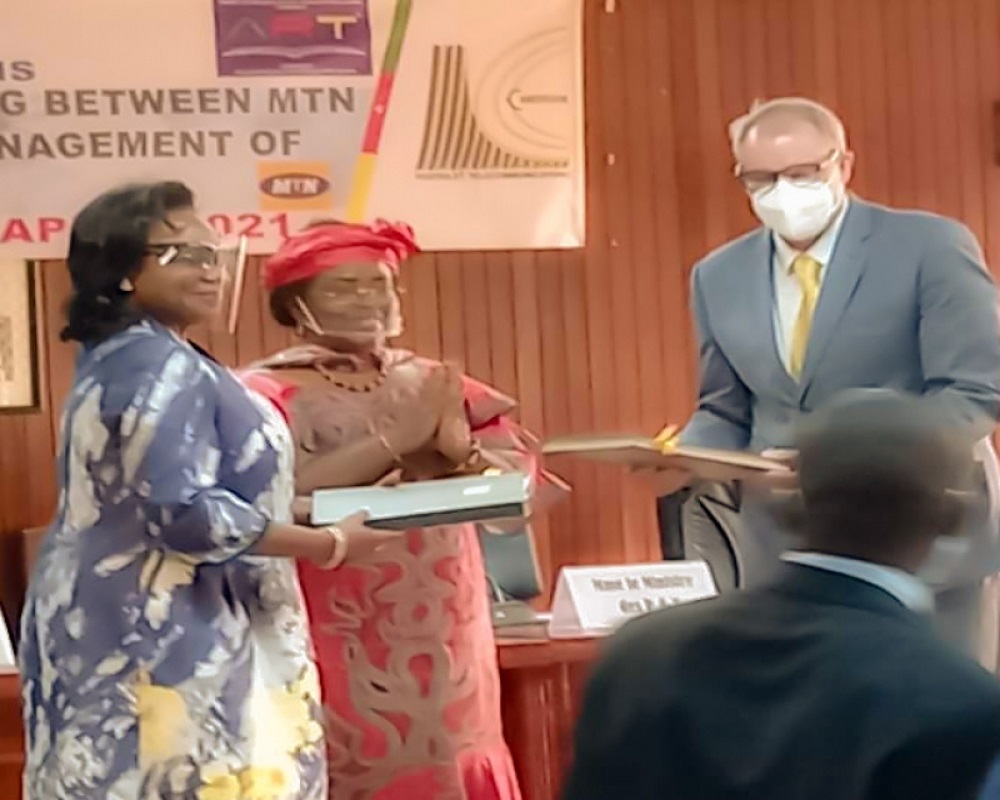 This partnership results from the implementation of the recommendations of the Minister of Posts and Telecommunications (MinPostel) and the negotiations underway between Camtel and MTN Cameroon since 2018. It will allow the MTN Group through its entity MTN Global Connect to be able to acquire internet capacities from Camtel and resell them to international customers. For its part, MTN Cameroon will sell its local "Wholesale" portfolio to Camtel.
"As you know, we are Electronic Communications Operators whose customers are not just individuals. Sometimes these are smaller companies or have a very specific clientele. These companies need large capacities to carry out their day-to-day activities. To date, MTN Cameroon provides this type of customer, "said Stephen Blewett, CEO of MTN Cameroon during his speech during the ceremony.
He continued: "As regulations have evolved, it is an activity that now falls under the purview of the historic operator Camtel, whose status has also changed recently. By mutual agreement, this is a portfolio that we are going to hand over to them. Also, the MTN Group unit in charge of internet capacity resale will, under a specific contract, acquire capacities directly from Camtel to meet international demands ". The implementation of this protocol will be monitored by ART, which will report monthly to the Minister of Posts and Telecommunications.
For MTN, the signing of this agreement is an important event. This "testifies to MTN Cameroon's commitment to its commitments. This involves, among other things, operating in Cameroon in strict compliance with the regulations in force. To support the Government in its vision for a viable telecommunications sector in Cameroon. To collaborate frankly with all the actors of the telecommunications sector in Cameroon, to create a framework favourable to the development of the country. And bring a high-quality experience to all of our customers, "concluded Stephen Blewett.