We had an interview with multiple Award winning Cameroonian actress; Syndy Emade, and she shared some interesting details about herself, with us. This it how it's went:
What drew you to the Movie industry?
Syndy Emadé: What drew me into the movie industry was my love for creativity, expression and the art. I mean at a tender age, I found myself expressing myself infront of lots of people. Not only as a junior parliamentarian for the South West back then when I was in form 4, 2004. But then also as a class prefect all through. Not only in school but in the community too, so that has always been a passion of mine. So at the right time and when I was able to feed that opportunity in front of me I decided to grab it and that is how I got into movies.
Who inspired you?
Syndy Emadé: Simply, the women in my family. I come from a family of strong women firstly my mum. My mother inspires me so much. Then, my cousin, my aunt and my grandmother. Those people inspire me a lot and its been like that for years. Not only with their stories but with the way they've handled their battles, the way they overcame and the way they conquered and of course their loving hearts. It's been so much to learn from all of these women.
Please explain your creative process
Syndy Emadé: The very first step of my creative process as a producer is that I gather an idea once it pops up, be it a story, or marketing strategy, I let the idea just flow. Of course ideas pop0 in on a daily, but there is that one that strikes you and that's what is taking me to the second step. That is letting my mind wonder. I ask myself lots of questions about that idea. Be it the story that came up, I just let my mind wonder and try to gather as many questions as I can and I let it sink in. Then it takes me to the third part, that is me trying to connect all the dots about that idea. If the story comes up, I put all these questions down: is this going to persuade the audience enough, is this story going to be marketable enough, is this story going to blow people's minds? Once I am able to gather all of that, that takes me to the final stage that is me evaluating it, knowing that this is going to hit the market, this is going to be the target, this going to be it.
What's an average day like for you?
Syndy Emadé: An average day for me normally starts with a prayer and of course my days are filled with meetings, having to be on set. I try as much as I can to manage my time, I'm a very organized person so I respect time a lot so that definitely gets me to leave the house as early as I can if I have a meeting or if I have to be on set. I try as much to prioritise and plan so it takes me to always jotting everything down. I have my diaries constantly full because I write down things a lot and it just works perfectly for my reminder. After a long day of meetings I get to spend time with my beautiful daughter, family and loved once.
Is there a hidden meaning in any of your movies?
Syndy Emadé: Let's talk about a man for the weekend, the most recent release. Not really a hidden meaning but the message at the back that was being passed across was simply about doing what makes you happy not trying to please people and get drowned in depression behind closed doors.
Do you collaborate with others? What is that process?
Syndy Emadé: Yes, I do a lot of collaborations on different levels based on my own personal project I have done co-productions. I have co-produced Chasing Tales, Virgin Blade I now work with up comers. I do lots of collaborations because I believe together we can easily grow and of course make the ideas bigger and stronger. And I believe we all can uplift each other in one way or the other. I get calls for music, movies, events be it fashion or whatever and I gladly give my support in the way I can.
Please discuss how you interact with and respond to fans
Syndy Emadé: Firstly I love my fans, they are essentially the reason why I'm here. They are my motivation, my drive, and my strength. I always say without my fans I am nothing because it's amazing how people you've never met, people you probably don't know are supporting you, pushing you, they love and appreciate your work, you motivate them, you give them a reason to believe in something. To me it's a huge blessing so I try as much as I can to show them so much love because the love they show me is unimaginable. That's why on my platforms you find me responding to comments , going through my messages myself though sometimes I don't run the pages but because of the love they show me I personally go through and respond as much as I can. Anybody who reaches out to me they will tell you even if I take forever to respond when I see the message I will respond. It's all about love from me to my fans because I am where I am because of them. I can only wish for the day I will have a one on one and why not sit in a room full of my fans and have a beautiful chat with them and get to hear some of their beautiful stories and experiences and just laugh.
Tell me about your favourite performance venues
Syndy Emadé: My favourite performance venue will be at the restaurant eating scenes. And my favourite performance will be when I'm bringing out that emotion that carries the character why not the story. If it's that sadness, tears just come down and they will not stop, you should tell a story without even saying a word.
What advice would you have for someone wanting to follow in your footsteps?
Syndy Emadé: The advice I give someone wanting to follow my footsteps will be to be so prayerful, believe in God because He is the ultimate. Be determined because as much as you can be hardworking, there will be lots of obstacles that will trying to derail you, but if you are determined, there will be that force and drive that will keep you going. And that brings you to consistency. Consistency is my motto, for it kept me on track, knowing that I have to get better and better. I am my only competition. I try to make my next work better than the previous one and that's just how it keeps going. So prayer, determination, consistency, believing in yourself and being able to uplift others as you rise in your own journey.
It is evident that the Cameroon Movie industry is divided into camps, hate speech, jealousy, backstabbing etc. What to you can be done to rid of this cankerworm eating the industry?
Syndy Emadé: Yes such camps exists in every industry, it's just how you deal with it. It's how you are able to be a change or bring a change that you will like to see in that industry and that's what I try to be.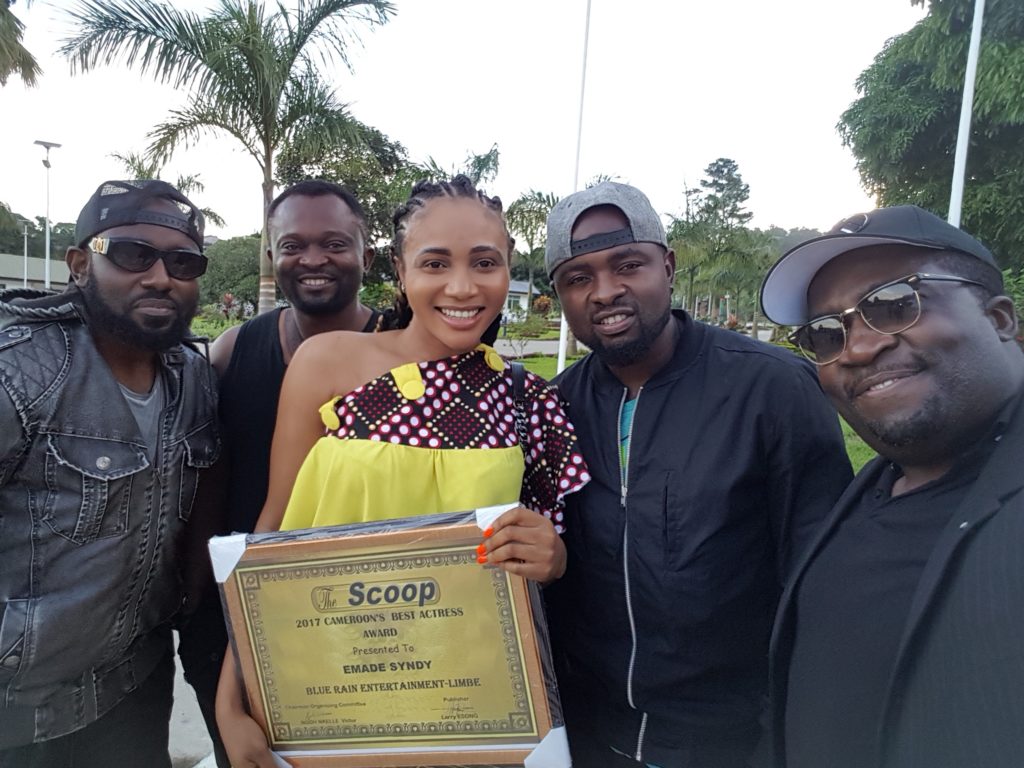 How do you manage your acting and personal life?
Syndy Emadé: I simply prioritise coz as a mother I have a beautiful daughter that I have to give my time and all to and of course I have a home to keep, protect and guide. So if it's time for family, nothing deviates me and if it's time for work you got to bring that bread.
Tell us about your experience as Brand Ambassador of Moet
Syndy Emadé: My experience with Moet as the hôte of the brand has been great. And me being the first Cameroonian that Moet decided to work with, I feel honoured, elated. I feel my work is being recognised not only at the national level but on the international level and I'm glad through me, the brand is ready and wanting to participate in the film industry to uplift the industry which they've already started doing. At the Ecran Noir film festival three main prices were sponsored by them with huge checks -The price of the best actor, best film and best actress
And if they can come into moves be it through product placement through sponsoring or partnership, it's a huge thing for our industry because it changes the image, it changes the game, the notion of our movies and it goes a long way. It's a beautiful experience and it's just getting started. I'm hoping to bring them on all major projects in the industry as much as I can. And of course resonate the brand too with the luxurious life style that the brand represents.
Your other activities apart from acting?
Syndy Emadé: Apart from acting and being a mother, I am an entrepreneur. I own a production house that I have to keep running. We have all equipment that we give out, it has to be controlled and we have productions not only for Bluerain but for other events. And now above all a foundation to run which I feel is my purpose on earth right now. As a public figure I get to do guest appearances, if I'm not shooting a movie, I'm on my philanthropic activities, I'm producing a movie or being the CEO of Bluerain entertainment, or I'm just being there for someone at some point.