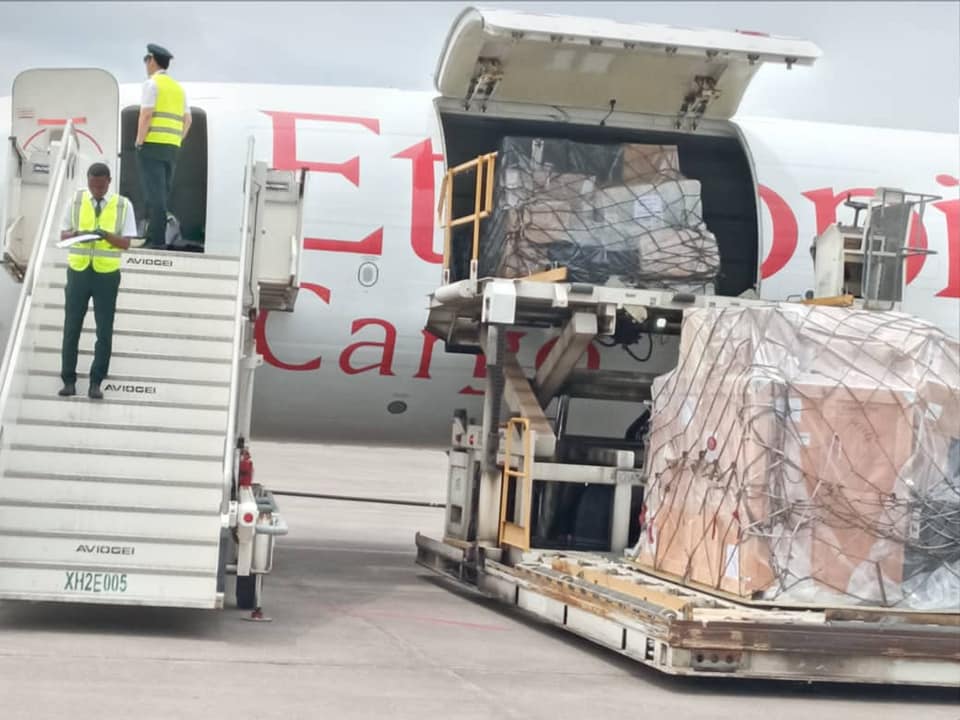 Cameroon's share of the medical support promised by Chinese billionaire and Philanthropist Jack Ma has been received today. The cargo plane dispatched by the Alibaba boss earlier arrived Ethiopia where Prime Minister Abby Ahmed coordinated the onward distribution to the rest of the continent to battle a virus without borders.
From the Pan-African package, Cameroon received 30 tons of aid comprising 20,000 laboratory diagnostic test kits, 100,000 medical masks, and 1000 protective suits and face shields.
The Secretary General of the Ministry of Public Health, alongside the representatives of World Health Organization office in Cameroon and officials from Institut Centre Pasteur received the consignement at the Nsimalen International airport.
According to Professor Koulla Shiro, the Public Health scribe, "Health personel in Cameroon are grateful for the gesture as they will be protected while at the frontlines of combating the pandemic." The test kits in particular have come as a welcome blessing to accelerate diagnosing and ensure that patients are put under treatment as soon as possible.
The medical support from Jack Ma no doubt reinforces the fight against coronavirus which is on rampage across the world. Dr Phanuel Habimana, the WHO resident representative in Cameroon says that,"Measures rolled out by the Cameroon government to stop the pandemic is well on course. The population now must embrace and implement them with rigour." Cameroon Covid 19 infection curve continues to rise with 88 cases confirmed with two deaths and two recoveries according to the Prime Minister of Cameroon Joseph Dion Ngute, coordinating the national response for the fight against the deadly virus. m"11�o