The headquarters of BEAC (Bank of Central African States) hosted this Saturday, October 3 the solemn hearing of the swearing-in of the new commissioner of the Central African Financial Market Supervisory Commission (Cosumaf), Noh Uthman Issa. Appointed on July 3 by the Ministerial Committee of the Central African Monetary Union, Noh Outhman Issa is now the titular commissioner of the Central African Financial Market Supervisory Commission.
This is after his swearing-in on October 3. Beginning with the reading of the professional oath, the ceremony saw the presence of the President of the Ministerial Committee of the Central African Monetary Union, Hamid Tahir Nguilin, also Minister of Finance and Budget, and several community authorities. The oath and the reminder of the rules of procedure were read by Ndouba Zacharie, representing the Advocate General.
The new commissioner of Cosumaf will be responsible for ensuring the protection of Savings invested in transferable securities within the framework of public calls for Savings, information on investments, and the proper functioning of the Market. He has a three-year mandate renewable only once.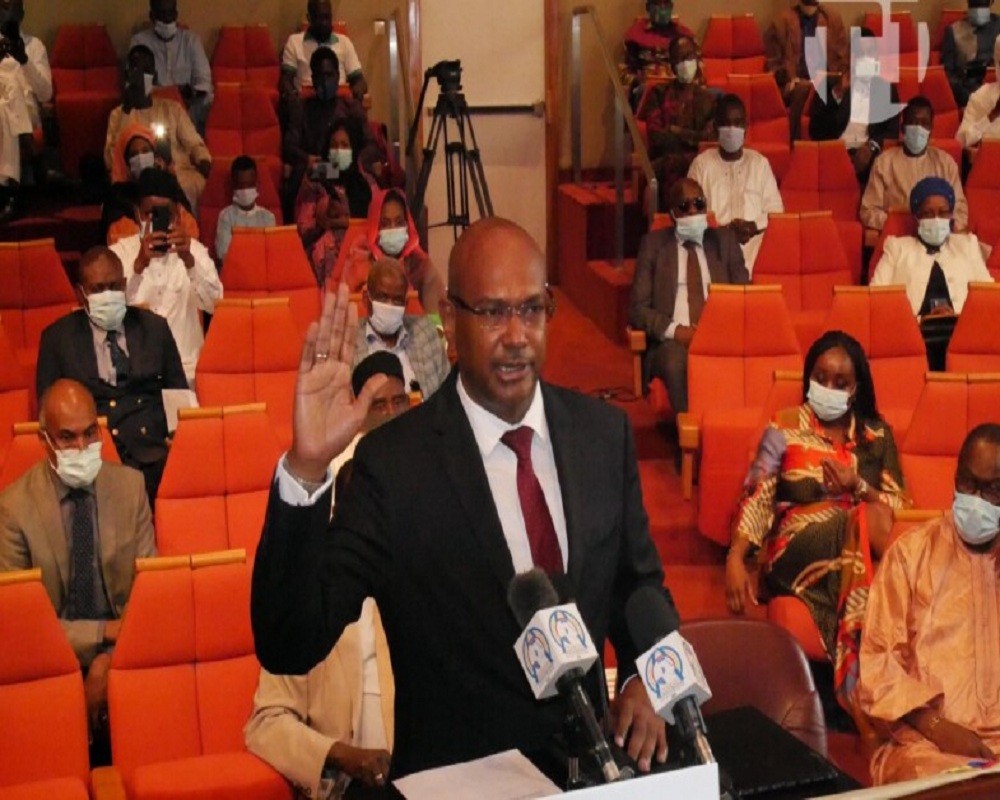 The recipient is committed to respecting the strictest confidentiality, the information and to fulfill his duties faithfully. In fact, as part of his mission, the agent is also called upon to personally ensure limited circulation and control documents relating to the Commission, in order to prevent confidential information from being accidentally disseminated.
Born in Abeché on November 22, 1974, the new Commissioner of Cosumaf is married and has five children. Holder of a baccalaureate, series D obtained at the Lycée de Sacré Coeur in N'Djamena in 1992, Noh Outman Issa first enrolled in the Faculty of Natural Sciences at the University of N'Djamena, then in the Faculty of Economics and management at the University of Cocody of Abidjan in Ivory Coast where he successfully passed his Masters in Economics in 1998. With his Diploma, he decided to return to the country. Recruited as a Management Assistant for the Higher Education Support Project in Chad, at the French Cooperation, from 1999 to 2000, he effectively used his time to carry out the "Updating" of documents and declarations imposed by legal and regulatory provisions in Chad.
At the Manufacture de Cigarettes du Tchad, from 2000 to 2001, he was the sole accountant who dealt with the reception of customers, the management of orders, cost accounting and the management of accounting operations related to the import Export.
His experience in the Financial Control Department at the Ministry of the Economy and Finance, from 2001 to 2003, was enriched by the Control of budget outputs and execution; the regularization of prices and budget lines.
Recognized as a necessary resource person, he was promoted Director of Administrative, Financial and Material Affairs at the Ministry of Social Action and the Family where he remained from 2003 to 2005 in order to prepare the budget for the entire Ministry, supervise General Accounting and monitor the program budget.